Call Our Company For All Your Bayswater Cleaning Needs. We Can Cater To All Of You W2 Upholstery Cleaning Needs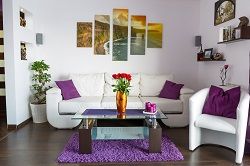 No matter how much time and effort you put into cleaning your house, if your upholstery and upholstered furniture is looking tired, grubby or stained then your home just isn't going to look as clean as it deserves to be. Re-upholstering or replacing your worn-looking furniture can be quite an expensive process, which is why Bayswater Cleaners work to offer you a more affordable option. Our professional upholstery cleaning service is a fantastic way to get your upholstery looking as good as new. Whether you're battling with tough stains or the general grime that comes with age, our company can cater to all of you upholstery cleaning needs. Contact us today on 020 3743 9436 for more information and to find out how we can help you!
Cleaning upholstery can be quite a difficult task if you don't know what you're doing. Using the wrong stain removal product can damage, tarnish or bleach your upholstery and upholstered furniture, whilst other products can cause fading and other issues. If you're unsure about what products are suitable for your upholstery, or if you're finding that nothing seems to be working, our company can help you! With our professional teams of W2 upholstery cleaners there's no job too big or too small. Our staff use only the best products and equipment whilst relying on a great knowledge of upholstery cleaning to ensure your belongings are going to look as good as they possibly can.
Great Deals on Upholstery Cleaning in Bayswater
Our W2 upholstery cleaning service really is the best in the area. We work hard to bring you affordable and competitive prices, without compromising on the level of clean you're going to be getting. No matter how small a budget you may be working with, you're bound to be surprised by our affordable and efficient service! If you live in the Bayswater area and you're looking for an unparalleled level of upholstery cleaning, call our Bayswater cleaning company today on 020 3743 9436 for all your upholstery cleaning needs!
Did you know that bacteria, germs and even bed bugs can live inside your upholstery and upholstered furniture? No matter what steps you may take to keep your upholstery as sanitary as possible, there's nothing that can compare to a professional and expert upholstery clean W2 from our company! Using the best equipment possible, we'll get your upholstery looking, smelling and feeling fantastic. Whether you're looking for a one-off Bayswater upholstery clean or if you're considering hiring our team on a regular basis, there are plenty of different ways in which our company can help you out!
For the Best Upholstery Cleaners in Bayswater - Call Us
If you're sick and tired or stain removal, or if you want to bring a new lease of life to your upholstery and upholstered furniture, then call our company Bayswater Cleaners today to get in touch with the most professional upholstery cleaners in the area. Our staff will provide you with the upholstery cleaning service you're looking for, without breaking the bank for you or your family. No matter what your cleaning needs may be, our company can help you out today. Call us now on 020 3743 9436 to speak to one of our advisors for more information about our great cleaning services Bayswater and prices. We truly are the best upholstery cleaners in Bayswater – you won't find a better quality of clean for a better price than with our company, so call us now!